Regular price
$50.00
Sale price
$24.95
Unit price
per
Sale
Sold out
Free Express Worldwide Shipping 🌍
YOUR DOG PULLS ON THE LEASH? DON'T HURT THEIR THROAT!
Whether you have a playful puppy or a fully grown dog, it's common for them to develop a habit of pulling on the leash during walks. This behavior can lead to coughing or even choking. Don't worry, TagMyPaws has the solution!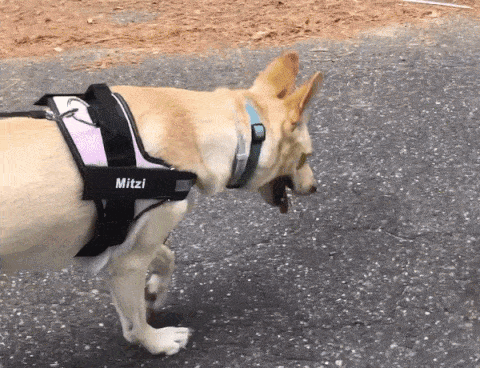 PERSONALIZE FOR FREE
Whether it's announcing that your pup is always happy, or
personalizing
with the traditional name and phone number, the
customization
is limitless and
free
!
WHY YOU NEED OUR NO PULL DOG HARNESS?
🐶 No Pull & Anti Choke Design
🐶 Control Your Dog Safe & Secure
🐶 

Prevent Injury & Discomfort
🐶 Prevent Your Dog From Getting Lost
🐶 Reduce Restraint & Anxiety


IMPORTANT PRODUCT FEATURES
🐶 Adjustable Straps

🐶 Comfortable Training Handle
🐶 Simply Attach Dog Leash
BECOME ONE OF OUR SATISFIED CUSTOMERS
"My pup Falco loves it! Fits perfect and I am really happy with the product! I feel so much happier with my doggo wearing the harness, I always know he's going to be safe and he is more relaxed!"
★★★★★
Sarah, Chicago
🐶 KEEP YOUR DOG COMFORTABLE & PREVENT INJURY - This harness prevents general discomfort, strangulation, limb or mouth injuries, skin problems & neck damage. The no-pull harness goes around your dog's body instead of their neck to keep them comfortable & happy. 
🐶 EASY ON, EASY OFF - A hassle-free experience, quickly & conveniently get your dogs harness on & off in a matter of seconds. Simply put the harness over your dogs head & fasten the clip, then they're ready to go.
🐶 IMPROVE YOUR DOG WALKS - It's easier & more comfortable for your dog to walk with a harness so they will enjoy their walks much more. It also makes it much easier for you to walk your dog.   
🐶 KEEP YOUR DOG SAFE - The harness keeps your dog locked in safe & secure, so you can easily control them. The reflective front strap & strips also makes your dog visible to keep them safe at night.
🐶 PREVENT YOUR DOG FROM GETTING LOST - You can personalise your dog's harness with a Name and Phone number, so they can easily be returned to you if they get lost.
🐶  REDUCE RESTRAINT & ANXIETY - The easy-on neck and chest straps are adjustable, so it will not give your dog a sense of restraint and anxiety, as most standard collars do. 
🐶 SIMPLE & EASY ATTACHMENTS - The stainless steel D-ring makes it easy to attach your leash, rope, or other restraints to your harness.
🐶 PREMIUM QUALITY - Our harnesses are made from high quality, padded material for the most comfortable experience for your dog. Our harness's fabric is durable & made to resist tearing.
🐶  EASY PICKUP NYLON HANDLE - Each harness has a nylon handle built into the top for easy grab to pick up your pet. 
The secret to your hassle-free experience with your best friend. With custom identification on both sides and breathable, sturdy, strong material.
The no-pull harness makes sure you no longer hurt your dog's neck or cause them general discomfort. 
92% of customers reported that they feel a lot safer walking their dog knowing that they could be identified during an emergency, whilst 35% followed up with a message expressing how much it has helped them and their dog.
View full details
If used in the wrong way, collars can lead to serious or even fatal injury. Here are five ways collars can potentially harm your dog:
1. Strangulation
If used in the wrong way, collars can put your dog at risk of strangulation.
A dog can jump up and snag their collar on a fence post or a window latch, which can lead to suffocation. Collars can also get caught on crates and other objects and cause choking.
Even a well-fitting collar can be dangerous if used to tie up a dog in the backyard. There are numerous cases of dogs who tried to jump fences while tied on a long leash and ended up hanging themselves with their collar.
2. Limb or Mouth Injuries
Apart from strangulation hazards, a collar can present other serious physical risks, especially if it's too loose. For example, if a pet is "scratching its ear and the collar is loose, their back leg or their front leg could get stuck inside the collar. Dogs cat get their teeth or tongue stuck in a too-loose collar while grooming themselves, which can lead to broken teeth and other mouth injuries.
To avoid both physical injury and strangulation, a chest harness would be the perfect alternative.
3. Skin Problems
A collar that is too tight can also be harmful to a dog, and even a "moderately tight" collar can lead to skin irritation. Collars that are too tight can cause hair loss, and the skin in those areas can be more prone to infection.
In extreme cases, a very tight collar can cut into a dog's neck. This can happen in cases of neglect when a puppy-sized collar is left on a growing dog.
In general, to protect your pup's neck, it is always better to go for a chest harness instead of a collar.
4. Neck Damage
Traditional collars can harm a dog's neck if it pulls hard on the leash or if a pet owner uses the collar to pull the dog around.
Repeated stress on the neck can even lead to long-term medical issues—including damaging the thyroid glands and tissues around the neck area and salivary glands, she says. A chest harness is a safer alternative to neck collars that put a lot of strain on a dog's neck.
5. General Discomfort
Even if a collar does not lead to any serious injuries, the wrong collar can simply be irritating for a dog. Pet owners should use common sense when collar shopping. If a collar looks rigid and uncomfortable, it probably is.
As the name suggests, no-pull harnesses work to minimise your dog's ability to tug hard on their lead during walks. They make it easier for dogs to pull strongly on the lead via their chest. Most owners will then find it difficult to stay in control of the situation when using a standard leash on walks unless their pet is extremely well trained.
A no-pull harness takes the advantage away from your dog and discourages them from trying to pull on the lead. 
In most cases, no-pull dog harnesses completely stop dogs from pulling. But, in some cases, they might not fully stop certain dogs from pulling straight away. It may require some extra training in order to get your dog to stop pulling. However, 90% of people find great success in using a no-pull dog harness to immediately stop pulling.
Each year, approximately 10 million pets are lost in the United States alone, and millions of those end up in the nation's animal shelters. Tragically, only 15% of dogs in shelters without ID tags or microchips are reunited with their owners. 
To prevent the heartache of losing your dog, it is important to equip your dog with ID tags to maximise the chance of their safe return if they stray from home or are lost on vacation or walks. 
Our Personalized Dog Harness ensures that your dog is firmly strapped in so they cannot escape and if they do escape, they can easily be reunited with you due to the custom ID tag with your dog's name and your phone number. 
SIZE CHEST (INCH & CM)
WEIGHT (LB & KG)
XS: 10-20 inch / 26-50 cm
5-10 lb / 2-5 kg
S: 20-24 inch / 50-60 cm
10-20 lb / 5-9 kg
M: 22-26 inch / 55-65 cm
20-40 lb / 9-18 kg
L: 26-31 inch / 65-80 cm
40-60 lb / 18-27 kg
XL: 28-45 inch / 70-90 cm
60-85 lb / 27-38 kg
XXL: 35-47 inch / 90-120 cm
85-160 lb / 38-70 kg
XS - Yorkshire Terrier / Chihuahua / Pomeranian / Small Puppies / Miniature Dachshund / Westland Terrier
DOG BREEDS
S - Mini Schnauzer / Bichon Frisé / Shih Tzu / Maltese / Dachshund / Beagle / Jack Russell / Cockapoo / Cocker Spaniel
M - Pug / English & French Bulldog / Pembroke / Welsh Corgi / Border Collie / Whippet
L - Staffordshire Bull Terrier / Basset Hound / Australian Shepherd / Poodle / Springer Spaniel / Huskey
XL - Labrador / German Shepherd / Golden Retriever / Greyhound
XXL - Rottweiler / Tibetan Mastiff / Bullmastiff / Great Dane
🐾 PERSONALIZED NAME TAG  - You can personalize your dog's harness with a Name and Phone number, so they don't get lost on walks.
🐾 STAINLESS STEEL D-RING - Use this ring to easily clip on your dog lead to the harness.
🐾 DURABLE RELEASE BUCKLE - The easy side buckle is made for a no-hassle quick click and away you go. 
🐾 BREATHABLE MATERIAL - The breathable material makes it comfortable for the dog to wear and enjoy.
🐾 MACHINE WASHABLE - Our harness can be washed in the washing machine, making it easy to clean when you need to.
🐾 REFLECTIVE STRAP - Our harness has a reflective strap that can easily be seen at night to keep your dog safe. 
🐾 NYLON HANDLE - The handle gives the user better control over your dog when using this harness. It is also useful for training your dog too!
Yes of course it is! Our strong D-ring on the top of the harness is perfect for holding your dog secure while travelling.
When we designed our Personalized No Pull Harness, our main goal was to create the best harness you need as an owner! We have included every feature a good harness should have and combined it into our harness. Raico, our golden retriever, has walked thousands of miles testing our harness. We added and adjusted multiple features along the way until we have the perfect harness now.
1. How much does shipping cost?
Shipping is temporarily FREE on all US orders!
2. What are the shipping times?
We ask to allow 5-10 business days. (We work hard to speed up our shipping times, and often your package will arrive sooner than the estimated delivery time.)
3. How does the 90-day return policy work?
On the off chance, that you don't like it or you would like to exchange your order, please email our support team and they will be able to provide you with all the instructions you need to complete your return.
4. Can I cancel or change my order?
Sure, as long as our fulfilment team hasn't already shipped your order. If they have please allow for the product to be delivered and leave it unopened so you can return it.
For more questions go to our shipping page.
Please email our support team at info@tagmypaws.com for more assistance.
Our greatest priority is you: the customer. We require that our store, checkout, delivery and every area of our customers' experience is of the highest standard possible. This means that:
The customer always comes first,
We have a secure checkout,
We have a free worldwide shipping policy,
Our support team is ready and waiting for any questions you have.
While we can't guarantee a 100% issue free experience, we can 100% guarantee that we will always act swiftly to resolve any issues in the unlikely event in which they occur.
Any questions?
We are happy to help!
Contact us with:
Email: info@tagmypaws.com
Only the best. Period.
Our Values

We test, examine and rough up all of our products to really put them through the paces, before we feel confident in passing them onto you.

Choosing TagMyPaws means you're choosing a product we proudly stand behind and use daily ourselves.